While Argentina's incredible World Cup win was dominated by the news of Lionel Messi winning the final big trophy in his illustrious career. However, in all the celebrations and glory, what escaped the attention of most was the rise of a new generation of players who will take the baton from Messi and ensure that La Albiceleste keep on winning titles in future. Enzo Fernandez is the face of this new generation. 
The 22-year-old was one of the best players to emerge from the World Cup. And his incredible showings in Qatar and at Benfica in the Portuguese League have now made him a transfer target that, if completed, could break several records. 
A hard-working player with impeccable passing, Fernandez has already been on the radars of several clubs. However, his performances at the World Cup, which won Argentina their third title, have confirmed that he is more than ready to play a prominent role for one of the top clubs in Europe. The SL Benfica has produced some of the finest players over the years, but Fernandez could be the one that brings them the most money. 
Enzo Fernandez career stats 
Fernandez is a number eight who relies on his passing always to move the ball forward and ensure his team has the upper hand. According to fbref, Fernandez makes 98.72 passes per 90 minutes, completing 84.28 of them, both putting him in the top one percentile of midfielders. He is also among the top one percentile midfielders when it comes to progressive passes (9.47), passes into the final third (11.49), live ball passes (94.14), through balls (0.62), and switches (1.89).
His passing also helps him in creating chances for his team. He completed 4.49 goal-creating actions, among the top four percentile of midfielders. Out of this, 3.83 came from his passing, among the top two percentile midfielders. The same is the case when it comes to goal-creating actions, where he creates one goal every 140 minutes, among the top one percentile of midfielders.
However, this doesn't mean he shies away from performing his defensive duties. In the last 365 days, Fernandez contested 3.04 dribblers, among the top seven percentile of midfielders.
Fernandez has the third-most assists in the league creating nine chances, the third-most in the league. In addition, he has also played 10.4 accurate long passes per 90 minutes, the most in the league. The midfielder has currently completed more than 1200 passes in the current Primeira Liga season, averaging more than one pass per minute.
The youngster was the player with the most touches (!18), most successful passes (77), and most tackles (10) in the World Cup final against France.
Enzo Fernandez strengths and weaknesses 
Enzo Fernandez is a player blessed with the defensive acumen of a number six and the creativity of a box-to-box number eight. This makes him a rare talent with skills few midfielders possess at a young age. The youngster also doesn't mind attempting hard passes, which is the reason why he creates so many chances for his team.
And Fernandez is incredibly versatile, too, transitioning from an incredible passer to a no-nonsense tackling midfielder with ease. This was more evident in the UEFA Champions League, where he attempted more tackles and blocks than in a Portuguese league match. 
It was the same case at the World Cup, where Lionel Scaloni deployed him as a number six, where he acted as the perfect orchestrator for La Albiceleste which won him the Best Young Player award.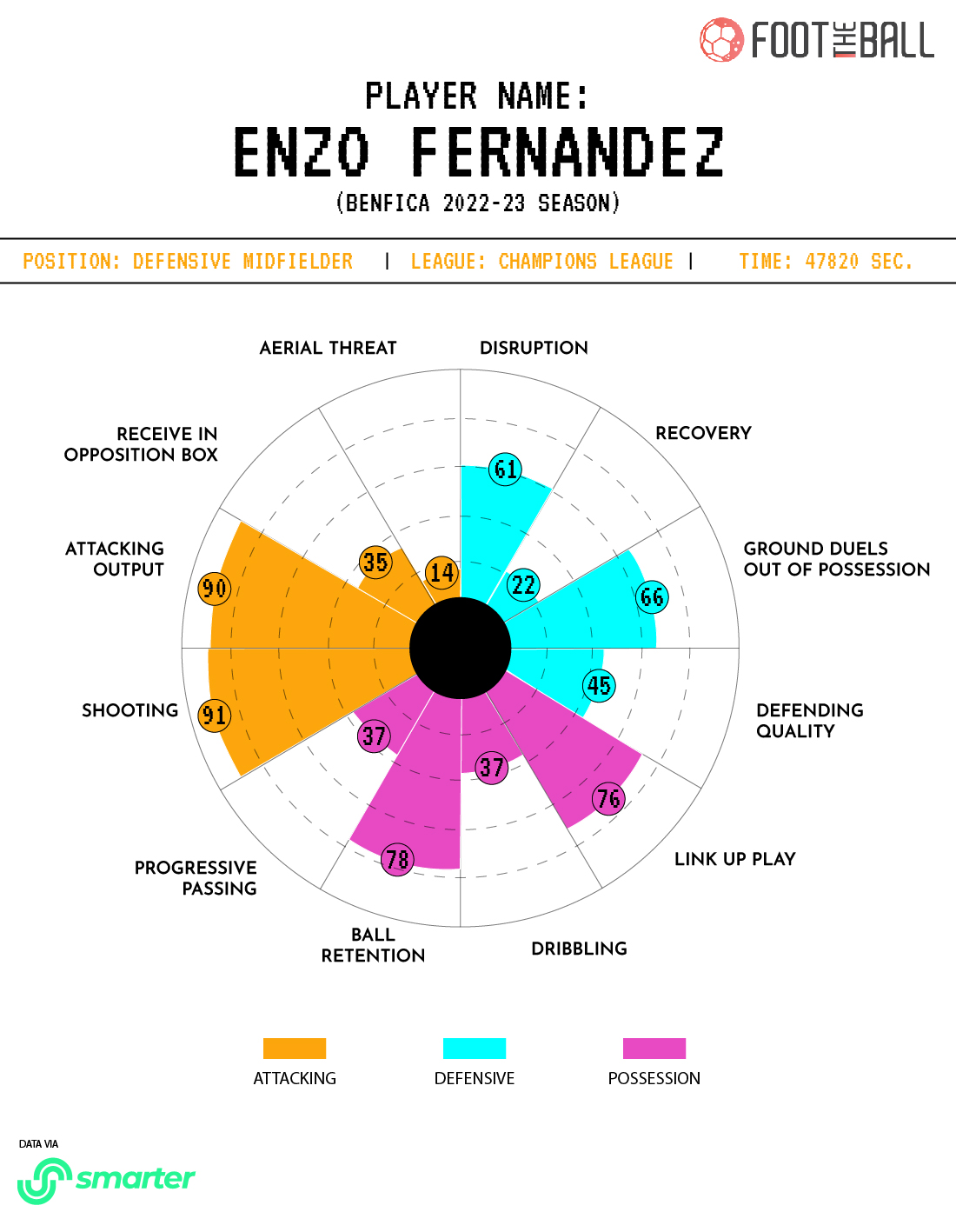 Read More:
Fernandez has been so impressive that with him in the team, Benfica have only lost one match this entire season across all competitions. The Argentine is not only a perfectionist at making passes but also receiving them. More often than not, his teammates give him the ball in tight spaces from where he either uses his passing or dribbling skills to get past the rival.
However, one of his most impressive skills is his ability to move the ball forward. His passing is always with purpose, as he deliberately avoids easy passes and always looks for gaps in the opposition's ranks to exploit. 
This skill set also means that Fernandez could be deployed in both a two-person and three-person midfield. In addition, he can also play the role of Regista or a Mezzala, which would give a team he joins a player who can be world-class in not one but multiple positions.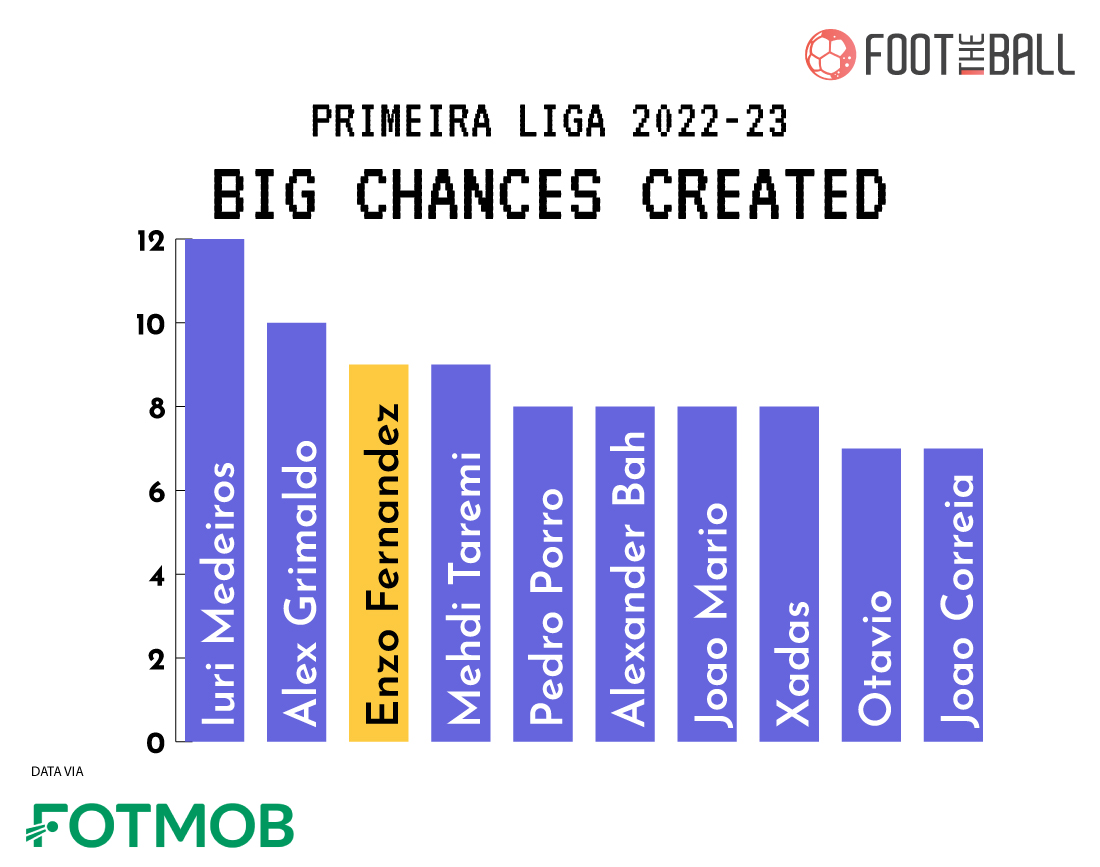 Enzo Fernandez Chelsea transfer news 
Ever since the new ownership of Todd Boehly took over the club, Enzo Fernandez has been chased by Chelsea. However, Benfica had a €120 million release clause, which strengthened their position. Chelsea failed to sign him in the summer and thought of returning for him in the winter transfer window. 
However, during these six months, Fernandez became integral to a team that won the World Cup title. This meant that Benfica's resolve to eke out as much money as possible from his sale grew strong. 
And now Chelsea are close to concluding a British transfer record deal to sign him. According to reports, Chelsea will pay €120 million in instalments, thus making him the costliest British transfer ever in the history of football.
Fernandez would also add to Chelsea's already record spending to a level never seen before. However, the Blues have already seemed to strike gold with the acquisition of the brilliant Mykhaylo Mudryk, and they now have another baller in Enzo Fernandez. 
His acquisition will also immensely increase the quality of Chelsea's midfield. With his brilliant chance creation, expect Chelsea to be a serious title contender next season with Enzo Fernandez at the centre of it.